There have been two International Future Center Summits, both organized by members of the Future Center Alliance:
2005 in the Netherlands
2006 in Italy
The Summits brought together key thinkers involved in establishing, designing, and running future center and innovation center initiatives across Europe and Asia. Both events included three days of varied activities for working on new concepts and methodologies for Future Centers, innovation workspaces, and labs for social innovation. The format of both Summits was "the exploration tour": learning journeys to visit locations relevant to the themes explored.
The Summits were organized so that a broad cross-section of practitioners could meet each other, physically experience a number of centers, explore mutually interesting concepts and provide a basis for learning and possible collaboration in the future. Summit agendas focused on five objectives:
Inspiration. Exploring new ideas from a broad range of initiatives and new directions for thinking about – and acting on – future center concepts now and in the future.
Learning. How others translate future center concepts into actual projects: what works, what does not work, and why? Collective intelligence brought to bear on the dilemmas and actual challenges which participants face.
Social innovation. How can these centers and their underlying concepts contribute to social innovation?
Networking: What is the basis for personal and organizational cooperation, consortium forming and community in the future?
Leveraging. What is the leveraging potential for helping to launch new centers?
The Netherlands Summit in 2005
This event was held in The Netherlands on 19-21 May 2005. The exploration tour was organized around visits to five Dutch Future Centers for the public sector. These centers provided a unique setting for bringing people and ideas together, and for active reflection on both the practical application of specific concepts and on the future of future centers. 56 people from 11 countries took part.
The Da Vinci Summit in 2006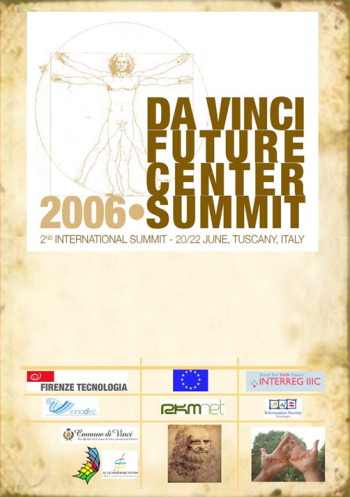 The Da Vinci Summit was be held in Tuscany on 20-22 June 2006. The event focused on three themes:
1. Future spaces: anytime, anywhere. How to create a temporary, mobile oow-tech future center, using the available space as a given.
2. Learning from the past to create the future. The museum as link between past, present and future.
3. Art and Future Centers. Future Centers and artists both helkp people see things in different ways. How can Future centers use art to open horizons? What can Future centers learn from how artists work?
A visit to Vinci and the Leonardo Da Vinci library was one of the highlights of the Summit. 60 people from 13 countries attended the event.
 3rd Summit: Stockholm 2009
Plans are being made to organize a 3rd Summit in Stockholm on 14-16 May 2009. More information about the Summit will be available in early 2009: both here, as well as on the Future Center community website: www.futurecenters.eu